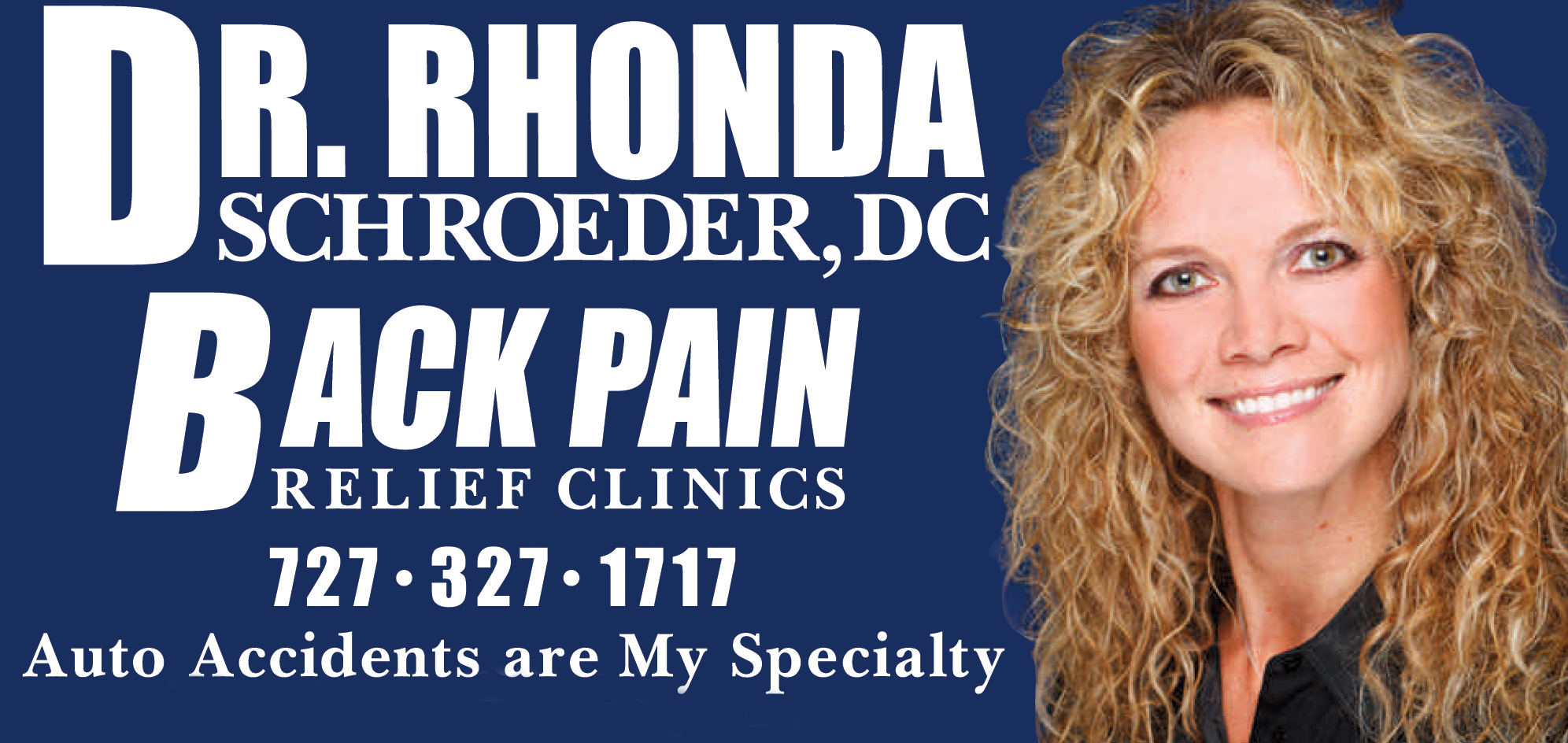 Back Pain Relief Clinics
Dr. Rhonda Schroeder is committed to bringing you better health and a better way of life by teaching and practicing the true principles of chiropractic wellness care. Located in the heart of St. Petersburg, the leading health professionals at Back Pain Relief Clinics are dedicated to helping you achieve your wellness objectives — combining skill and expertise that spans the entire chiropractic wellness spectrum.
Patients seeking treatment at Back Pain Relief Clinics with chiropractor Dr. Rhonda Schroeder are assured of receiving only the finest quality care through the use of modern chiropractic equipment and technology.
What is a Chiropractor?
Chiropractors, also called doctors of chiropractic and chiropractic physicians, emphasize health and healing without interventional methods, such as medication and surgery. Chiropractors focus on the nervous system (brain and spinal cord), on the alignment of the backbone (spine), and on soft tissues (e.g., muscles), nerves, and blood vessels.
What can a chiropractor help with?
A Chiropractor can help with many different health related problems such as headaches, low back pain, auto accident injuries, whiplash pain, neck pain, numbness and tingling, sciatic pain and many other ailments.
Dr. Rhonda Schroeder is a second generation chiropractic physician and one of seven chiropractors in the immediate family. Dr. Rhonda and staff have a genuine concern for your well-being! If you are new to our website, please feel free to discover and learn about chiropractic wellness. If you are interested in starting your journey towards wellness please explore the blog section of our website for wellness articles, resources, and health facts—specifically targeted by Dr. Rhonda Schroeder to your wellness needs and interests.
It's Your Life… Live it in Health!
Contact Us
Call Today for an Appointment!
Location
3962 5th Ave N St. Petersburg FL, 33713
Hours
Monday -Friday: 9A – 6P
CLOSED Weekends