The Back Pain Relief Clinics takes great pride in the variety of different techniques and services available. We have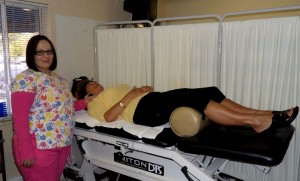 listed below some of the different services and techniques which are offered.
Chiropractic Care
Dr. Rhonda Schroeder, being one of seven chiropractors in the family, has had extensive study and exposure to many different techniques. Unlike other chiropractors, this has allowed her the ability to offer different techniques for different patients dependent upon their individual situation. Dr. Rhonda has years of training and experience in the science and art of the corrective spinal adjustment.
Corrective Exercises
Depending on the problem or condition of the patient, we have a special corrective exercise type program for each situation. These exercises are developed so they can be completed in your own home. The exercises play an important role in the correction of any spinal problems which may be present. These exercises will help in the rehabilitation of different soft tissue conditions involving muscles, tendons, ligament, intervertebral discs and others.
Nutritional Counseling
The Back Pain Relief Clinics has an excellent variety of nutritional supplements. Each patient may have an individual struggle with nutritional aspects which can be helped with different nutritional advise. Dr. Rhonda understands the importance of nutrition and health. She can help you get started with a good nutritional program.
Physiotherapy
The Back Pain Relief Clinics offers several different modalities to help with the healing process on an injury. Below are some of the physiotherapy modalities available:
Moist heat therapy
Cryotherapy
Interferential electric muscle stimulation
Spinal Decompression
Diathermy
Class 3 Cold Laser Therapy
Massage Therapy
The Back Pain Relief Clinics offers a full time massage therapist on staff. Massage therapy is used as a further aide in the healing process of many different muscluloskeletal conditions. Our clinic offers unique massage therapy which is individual to each patient's treatment plan. The benefits of massage therapy are plenty including muscle relaxation, swelling reduction, increasing blood flow, increasing range of motion and others.